Welcome to Jumoby.ng – the place where people in pursuit of success come to get actionable insights, life hacks, and life-changing opportunities.
As the custom is, I share life-changing, business-impacting, and career-transforming information with my circle – "The Jumobites". If you are yet to get on my email list, visit – www.Jumoby.ng/signup now so you don't miss out on my next broadcast of resourcefulness. 😉
By popular demand, Pi Network is the talk of the town. Even naysayers (crypto lords) are now suddenly interested in Pioneers selling their Pi coins to them. Saw this online … 👇
The hot news is that Pi Coin value is increasing daily. And as such, there is a huge traffic flow to the Pi Network. Even those who never believed in the project before are now rushing it like indomie.
Before we go into the STEP BY STEP GUIDE; if you are yet to join the Pi Network and yet to start mining, you can do so with the special offer below;
I am sending you 1π! Pi is a new digital currency developed by Stanford PhDs, with over 35 million members worldwide. To claim your Pi, follow this link https://minepi.com/jumoby and use my username (jumoby) as your invitation code.
Pi Network KYC Verification Guideline | Step-by-Step Guide (Everything You Should Know)
The world's first mobile mining cryptocurrency, Pi Network released its KYC to its pioneers all over the world. The KYC process is a procedure to Verify all miners, in other to get rid of fakes and duplicated accounts before moving pioneers to mainnet.
The KYC requirements for each country may be different base on the type of valid identification issued to citizens of that country. What Pi Network team do is that they release KYC requirements based on individual country valid Identification – more details below.
Pi Network has gone under the radar of popular media and they have been gradually gaining momentum whilst building solid foundations. We have seen the addition of Pi Apps, Marketplace, Nodes, and now, the ability to KYC without the initial limitations of selected countries.
This guide is written alongside an explanation video below to help you through the Pi Network KYC verification process and how you can get verified.
Know Your Customer (KYC) can also refer to as Know Your Client. When opening an account and on an ongoing basis, KYC checks are required to identify and confirm the client's identity.

In other words, banks need to confirm that their customers are actually who they say they are. If a client does not comply with the minimal KYC criteria, banks may refuse to open an account or terminate a business relationship.
The Pi Network has gone through different stages since launching on the 14th of March 2019. And now at Mainnet Enclosed Network stage.
Pi Network comes with 2 promising components; The Pi Network Price and The Pi Network Value. Every Pioneer stands to benefit from either one or both of them.
Pioneers around the world are all waiting eagerly and patiently to start reaping the reward of their year-long mining. Pi Network a Crypto Currency with over 8 million participants (pioneers) mining and accumulating free coins on the network since 2019 plans to stop the free mining when the total number of participants (pioneers) or members reaches 10 million worldwide, which of course is close by.
Pi Network KYC Verification Guideline
The KYC Verification has begun to roll out as of the publishing date of this article. In Nigeria, Pi Network KYC requirements for Nigerian Citizens are:
1. NIN Slips (premium)
2. International Passport.
3. National ID Card
4. Driven License.
For those who use an International passport, the verification is less than 12 hours, but for those who used another means of verification takes some weeks, why? Because they require Validators from Nigeria who will verify other Nigerians on their platform.
How to Verify Pi Network KYC
The first step in the verification process is;
1. Download Pi Browser in Google play store or Apple play store.
2. Sign in, and, Click on KYC pi.
3. Allow the form to open, when you are eligible, KYC process will open, then follow the steps to complete your KYC
After you successfully complete the Process Click on Submit. Image description below;
So firstly, as stated above – download the Pi browser, either directly from your phone app store or from the pi app left icon corner. Follow the registration prompt.

As soon as there is a free slot for you to KYC, you will get the pop-up below on your Pi app home screen. However, if you don't check daily, you might miss out on the alert as it always comes with 15 minutes action period before it's used up by other pioneers online.
Essentials Needed and Process to Follow for KYC
Video Guide For Pi KYC – WATCH!
How to Cash Out on Pi Network
Of course, this is the second most important question that everyone has after wondering whether Pi is real or a scam.
Time has shown, however, that Pi Network is here to stay, with incredible values continually emerging from the community since 2019.
As of today, August 04, 2022, Pi Network is in the mainnet enclosed network stage. There are three ways to take advantage of or cash out on Pi Network;
Using your Pi Coin to make purchase of goods and services.

Exchanging your Pi Coin with other participants for cash otherwise known as P2P.

Exchanging your Pi Coin with other crypto coins such as Bitcoin, Ethereum, Tron, USDT, Dodge, ADA, etc.
However, at the present Pi stage of Enclosed Network Mainnet, only number 1 above is activated. That is, you are free to buy and sell goods and services within the Pi community legally.
Number 2 and 3 benefits above are to be activated at the Open Netwrok Mainnet stage of Pi which is next in line after the successful onboarding of all pioneers in the world and hitting the 10 million pioneer milestone. No date yet to this, but like every good thing, it's worth waiting for.
Now, you are wondering – those selling their Pi, how are they doing it? Firstly, note that it's illegally done as this is not official yet on Pi Network. Those doing it, simply exchange their Pi for those who buy to keep for future benefit, and secondly, those who buy Pi in order to buy different items on Pi Network and resell e.g mobile phones. Mostly, China's in this category.
How To Recover Your Pi Passphrase
Now, there is 2 category of people who want to recover their passphrase, and so there are two approaches to this. First category;
Number 1; You Set Your Fingerprint To Access Your Pi Wallet

If you are in this category, it means you can access your account using your fingerprint.
If you can't remember your passphrase, simply get back your passphrase by opening your Pi wallet, click on Setting -> Authenticate -> Show -> Copy E.G Image below;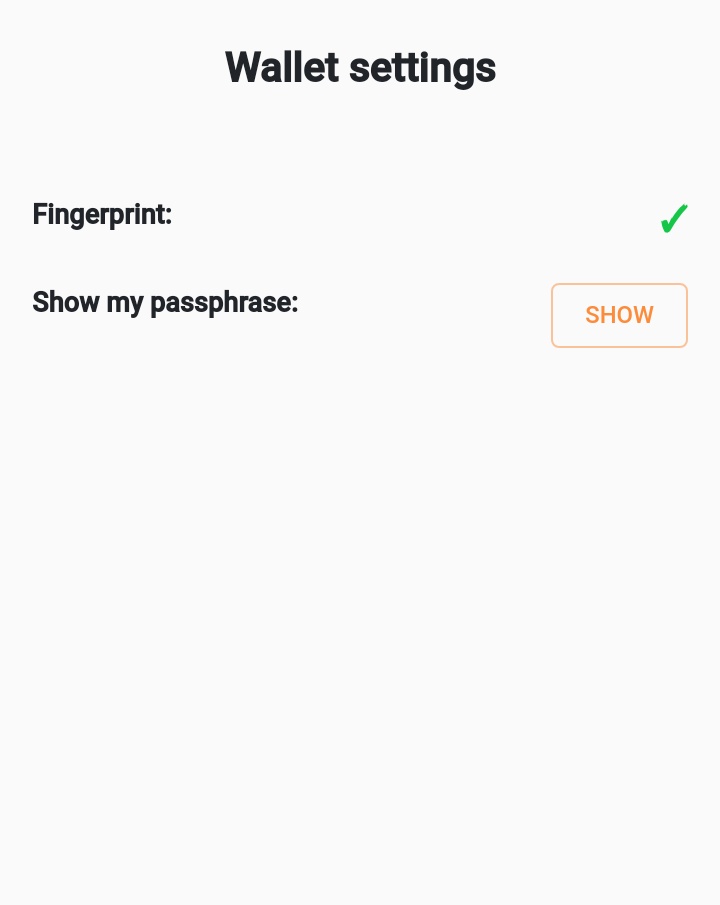 Number 2; You Did Not Set Your Fingerprint and You Lost Your Passphrase During Wallet Setup
If you have access to your wallet – go to settings and there you can choose 'Show Passphrase' – which is the step explained for Number 1.
If you lost access to your wallet at the registration page without a fingerprint, choose at the bottom, Reset Your Wallet. Then follow the steps and be responsible with your Passphrase this time.
Remember that the Pi in your wallet at this time is only Test-Pi and your mined Pi is still in the Pi App account and is safe – not yet on the Mainnet.
So, resetting your passphrase won't make you lose your Pi.
You didn't lose anything, so no panic 🙂
Pi Coin Utilization Within the Pi Network
Wandering if Pi coin is truly worth anything … below are a few out of thousands of use cases from around the world;
The list of use cases is endless and increasing on a daily bases.
You can join my Pi Network community with other Pioneers for daily/weekly update by clicking the button below;
And if you have not even started your mining journey at all … then;
I am sending you 1π! Pi is a new digital currency developed by Stanford PhDs, with over 35 million members worldwide. To claim your Pi, follow this link https://minepi.com/jumoby and use my username (jumoby) as your invitation code.
Remember, Pi is just taking off … you are not early and you are not late. Join the train now.
And to my fellow Pioneers, keep in mind the words of the Pi Network founder;
More Update Dropping Soon!
Don't be a stranger. Join the Whatsapp and Telegram Community for timely alert with new update;

JUMOBY WHATSAPP GROUP – JOIN HERE

JUMOBY TELEGRAM CHANNEL –JOIN HERE
JUMOBY SHOP