Welcome to Jumoby.ng – the place where people in pursuit of success come to get actionable insights, life hacks, and life-changing opportunities.
Opportunities are endless, and they don't even come once any longer. They keep coming again and again. Right here is an opportunity and easy route to relocate to Germany. Read further.
Trainees from Nigeria and all other countries wanted for job training in Germany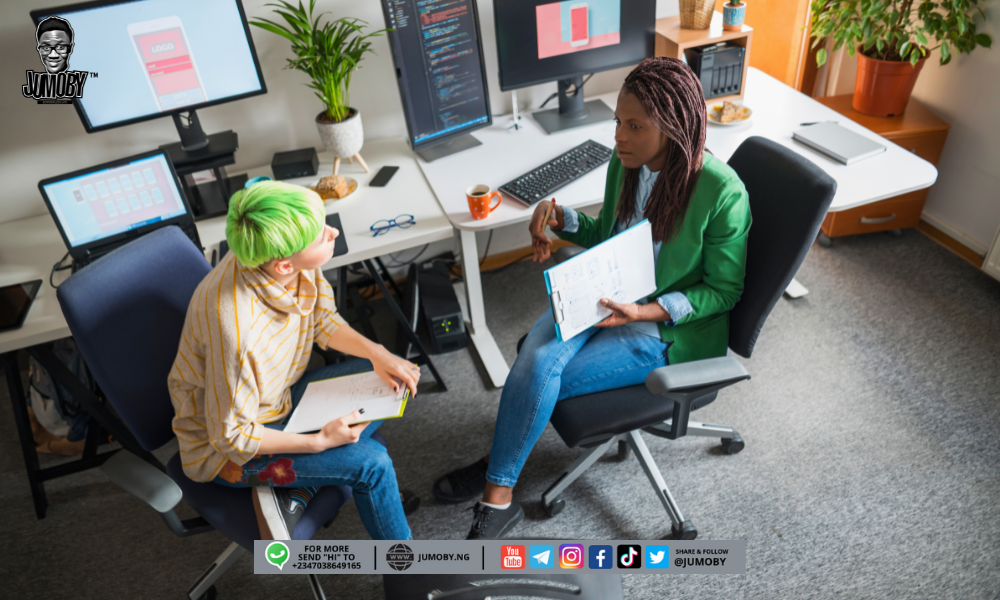 Germany is currently urgently looking for trainees (Azubis) for dual vocational training. Azubis are people who learn a profession for two to three years in Germany. After that you can work in Germany as a skilled worker. This applies to interested applicants from all over the world – no matter what your citizenship is.
So if you are from Nigeria, you can go this route. The only two formal conditions:
You speak German (around level A2/B1)
You have a school leaving certificate from Nigeria or any other country (at least 9 grades).
There are more than 350 professions in Germany from which you can choose the one that suits you as a Nigerian. These professions include for example:
Administrative assistant
Warehouse clerk
Systems electronics technician
Stonemason
Cook etc
Interested applicants from Nigeria and all other countries have excellent job and earning opportunities in Germany after their vocational training. This is because companies in Germany are looking for employees from Nigeria and other countries. The demand for apprentices is very high in all industries in Germany. It is also expected that this demand will remain high and even increase.
Therefore, there are now many new opportunities for applicants from Nigeria to start a vocational training in Germany. We inform you about all important questions and answers on the topic of dual vocational training for Nigerians in Germany:
Job training for Nigerians in Germany: Important Questions
Can a foreigner from Nigeria do an apprenticeship in Germany?
Yes, applicants from all countries (including non-EU) can do dual vocational training in Germany. So even if you come from Nigeria, you can basically do an apprenticeship. Afterwards it is possible that you work as a skilled worker in Germany.

Can I do an apprenticeship as a Nigerian if I do not speak German?
You should speak German at least at level A2 to be able to start an apprenticeship. In the workplace and in the vocational school, instruction is given exclusively in German. This is the reason why you need to be able to speak German reasonably well. Many employers will help you to improve your German.

When can I start an apprenticeship as a Nigerian?
Most apprenticeships in Germany start in August/September. But there are also other possibilities. It is always best to apply early.


As a Nigerian, how old do I have to be at least for a vocational training in Germany?
If you are from Nigeria you must be at least 18 years old to start a vocational training in Germany. Germans can start at a younger age. But as a foreigner you have to sign contracts here (training contract, rental contract, insurances etc.). This is only possible if you are at least 18.

What is the maximum age I can be if I want to do vocational training in Germany as a Nigerian?
There is no legal maximum age for an apprenticeship in Germany. Even if you are over 30 as a Nigerian, you still have good prospects. It often depends on the professions in which there is a particularly high demand for apprentices and how good your qualifications and language skills are.

Are apprentices from Nigeria popular in Germany?
German companies are looking for trainees very urgently. Therefore, in very many cases, applicants from Nigeria and many other countries are very welcome. Since statistically there is only one application for every vacant apprenticeship position, you also have very good chances as a Nigerian.

How much does an apprentice from Nigeria earn in Germany?
Your apprenticeship pay is usually in the range of 800 to 1,200 euros per month. It often depends on the industry, the region and the tasks. Applicants find out the exact amount directly from the employer during the application process. Sometimes there is the possibility to negotiate this wage somewhat. After successfully completing your training, you will earn between 1,800 and 3,000 euros per month as a skilled worker. This depends on your performance, the industry and many other factors.


How am I protected as an apprentice from Nigeria in Germany?
As a Nigerian, you have the same rights and obligations as any German apprentice. These include, among other things, the punctual and complete payment of the agreed wage, the right to continued payment of wages in the event of illness, and various rights in the area of working hours.

How to get a visa for an apprenticeship in Germany?
First you have to find an employer for your training and sign a training contract. Then you can apply for a visa for your education in Germany. If you are an EU citizen, you do not need a visa. In any case, all steps will be explained to you during your application.

Which training in Germany is suitable for me as a Nigerian woman?
According to our analysis, women apply most for apprenticeships as office management assistants, medical assistants, dental assistants and sales assistants. As a Nigerian woman, however, you can apply for any apprenticeship in Germany, for example, also as a secretary, cook or cleaner. All vocational training programs in Germany are also open to women from Nigeria.

Can I do a dual vocational training as a student from Nigeria?
Yes. Even if you are a student or have already completed your studies in Nigeria or another country, you can start an apprenticeship in Germany.


Which apprenticeship in Germany suits me as a Nigerian?
As a Nigerian you can start any apprenticeship in Germany. All professions are open to men, women and people who define themselves differently. You can choose from many different professions, including, for example, cleaner, consultant or engineer. You can also read our analysis specifically for apprenticeships for men here.
Job training in Germany for Nigerians: Which apprenticeship can I currently choose here?
We currently have the following opportunities available for training for Nigerians:
Where else can I apply for a job training in Germany?
You can also apply directly to companies, on skilled worker exchanges, at the federal employment agency or through agencies in Nigeria, Germany and other countries.
If you are have the 2 requirements; language proficiency and SSCE certificate. You can proceed to finding an employer that you can sign your contract with.
If you need to learn German, then research for German institute in Lagos or around you. And you can download Dualingo app to start learning from your phone. 2 month is enough to learn.
If You need consultation to research for employers to get your training contract; reach out to me on whatsapp via www.jumoby.ng/whatsapp
The deepest lines from The Richest Man in Babylon" – here is what it says:
"A man's wealth is not in the purse he carries. A fat purse empties if there be no golden stream of income to fill it. Arkad has an income that constantly keeps his purse full, no matter how liberally he spends".
Do you have an income like Arkad? If not, this is for you; LEARN MORE
JUMOBY SHOP